Music Hall Monday is a new feature here on ::Surroundings::. As a way of combining my two loves – music and design – we are going to travel to, and listen to, some of the great concert halls of the world. Where I can find a video or sound clip of a performance from the hall, I will include it. So, please enjoy the sites and sounds of Boston's Symphony Hall!

Boston's Symphony Hall is widely considered to be one of the finest concert halls in the world and is on the National Register of Historic Places. Opened in 1900, it was designed by the renowned architects McKim, Mead and White. They engaged Wallace Clement Sabine, a young assistant professor of physics at Harvard as their acoustical consultant. Symphony Hall became one of the first halls designed in accordance with scientifically derived acoustical principles.
Years ago, I worked for an opera company and we did many of our performances in this hall. As business and subscription manager, I was intimately familiar with every seat in the hall – all 2,625 of them! I knew which had obstructed views and which were the best for sound. The power!  Actually, there isn't a bad seat in the house. Standing on the stage of a great concert hall is an amazing experience. Unfortunately, I've never performed there, but I can attest to the amazing accoustics – you didn't need to yell to be heard when speaking to someone in the audience. Amazing!

Unlike many major halls – the stage of Symphony Hall is quite simple with its cream paneling, gold organ pipes and guilded proscenium. The balcony seats closest to the stage actually overlook the performers. Quite a view! The Hall is relatively long, narrow, and high, in a rectangular "shoebox" shape. It is 61 feet high, 75 feet wide, and 125 long from the lower back wall to the front of the stage. Stage walls slope inward to help focus the sound. With the exception of its wooden floors, the Hall is built of brick, steel, and plaster, with modest decoration. Side balconies are very shallow to avoid trapping or muffling sound, and the coffered ceiling and statue-filled niches along three sides help provide excellent acoustics to essentially every seat.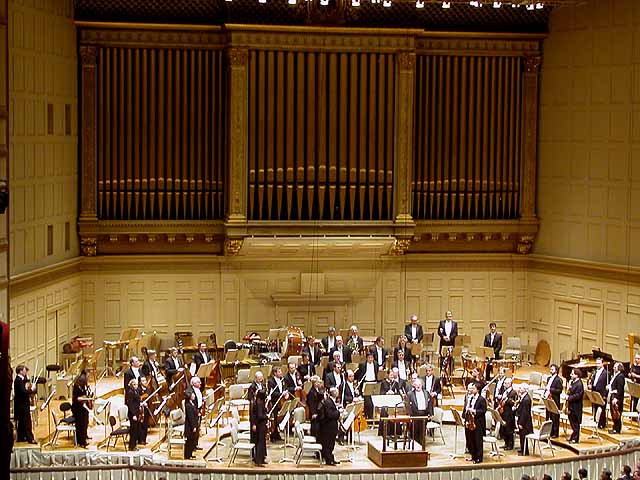 The 16 Greek and Roman statue replicas lining its walls were installed as an echo of the frequently quoted words, "Boston, the Athens of America," written by Bostonian William Tudo in the early 19th century. Ten are of mythical subjects, and six of historical figures; all are plaster reproductions cast by P. P. Caproni and Brother.
During the Boston Pops season and at Christmas, the front section of orchestra seats is removed and cafe tables and chairs are installed for a more casual – although pricey – concert going experience!
McKim, Mead and White were associated with the Beautiful City and Beaux Arts movements of the early 20th Century, which aimed to clean up the visual confusion of American cities and imbue them with a sense of order and noble formality. They also designed:
Boston Public Library
You might also enjoy: