As all eyes of the world are focused on tomorrows inauguration of Barack Obama as the nation's 44th President, I thought it was a good week to focus on The Kennedy Center for the Performing Arts.
The Kennedy Center, located on the banks of the Potomac River near the Lincoln Memorial in Washington, D.C., opened to the public in September 1971. But its roots date back to 1958, when President Dwight D. Eisenhower signed bipartisan legislation creating a National Cultural Center. To honor Eisenhower's vision for such a facility, one of the Kennedy Center's theaters is named for him.
Here is a video of Beyonce singing "The Way We Were" in honor of Barbra Streisand at the 2008 Kennedy Center Honors Awards ceremony, held in the Opera House at the Center.
The Center was designed by American architect Edward Durell Stone (1902-1978). The Kennedy Center features a 630-foot long, 60-foot high grand foyer. Cyril M. Harris designed the interiors and auditoriums – including the double box design used to keep out the noise of air traffic. The three main theaters at the Kennedy Center are the Opera House (2,300 seats), Concert Hall (2,441 seats), and the Eisenhower Theater (1,100 seats).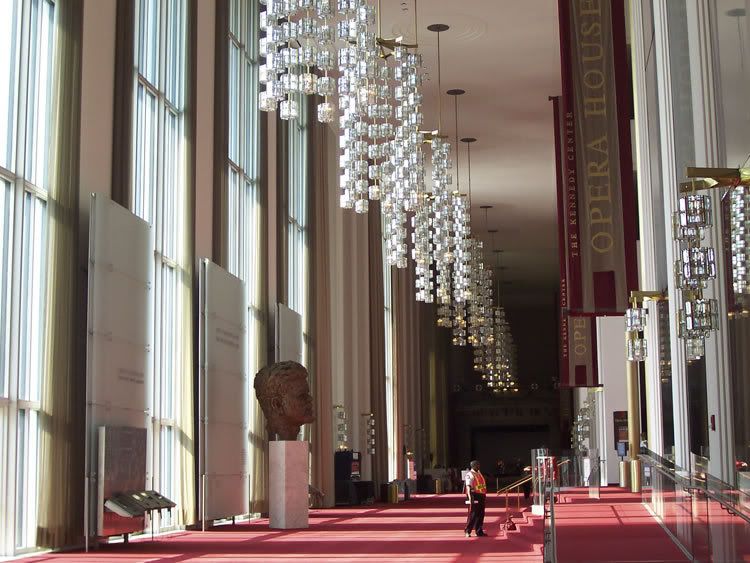 Sweden's gifts to the Kennedy Center are 18 Orrefors crystal chandeliers and matching wall sconces that need a total of 8,000 lightbulbs. Each chandelier is 15 feet long, seven feet in diameter and weighs one ton.
Orrefors crystal chandeliers from the Kennedy Center available at
Belvair for Modern Living
.
Eight mirrors, 58 feet high and nine feet wide, are Belgium's gift to the Kennedy Center.
Twenty brass planters along the Grand Foyer and throughout the building are India's gifts to the Center.

Bust of President John F. Kennedy by American sculptor Robert Berks

The crystal chandeliers in the main Concert Hall were made by Hadelands Glassworks and were a gift from Norway.

The Opera House is the setting for the annual Kennedy Center Honors televised event celebrating the highest honor for the performing arts. The crystal chandelier by Lobemyr was a gift from Austria.

The Eisenhower Theater hosts mainly plays and musicals, operas, ballet and contemporary dance.
Here is a video tour of the Kennedy Center:
All images are from The Kennedy Center or here and credits belong to the copyright holder. No rights are granted here.
Subscribe to ::Surroundings::