TODAY IS YOUR LAST DAY TO ENTER!!
I'm thrilled to be able to offer as a giveaway this beautiful handmade latter that would be great as a cheese tray, sushi platter or for any other food presentation. This unique, minimalist serving board is made from re-purposed remnants of domestic New England hardwoods.
Ray and I at the IFDA New England Member's Dinner in 2010
Ray Bachand's furniture design is guided by the unique character and temperament of each piece of wood. The uniqueness of the grain patterns, the shape and size, the color variations etc. all contribute to how a board will be used. Often defects become attributes and sections that might otherwise be cut out or discarded become spectacular. This allows that each finished piece is indeed unique and can truly be considered one of a kind. 

A mostly self-taught artisan he has attended workshops at The North Bennett Street School and Chair Making Workshops in New Hampshire. He has a background in music with a BA in percussion performance from San Jose State University and has done graduate work at UCLA. His performances ranged from The San Francisco Opera to Dave Brubeck to Frank Zappa and he was a faculty member of The Berklee College of Music.
After founding, running and then selling a music software company Ray became impassioned with wood and has never looked back. He is now the proprietor of 60nobscot Home a showroom & gallery featuring custom furniture, unique art & handcrafted home goods in the restored barns at the historic Mahoney Farm in historic Sudbury Massachusetts.
Here's a few examples of Ray's work: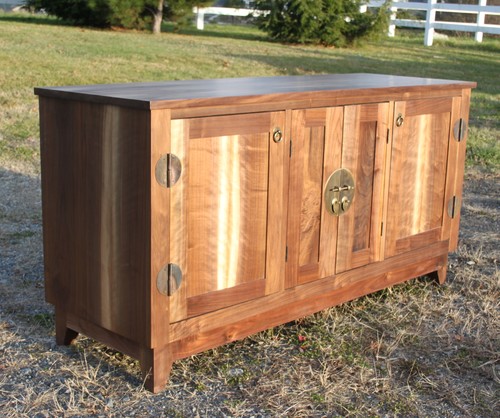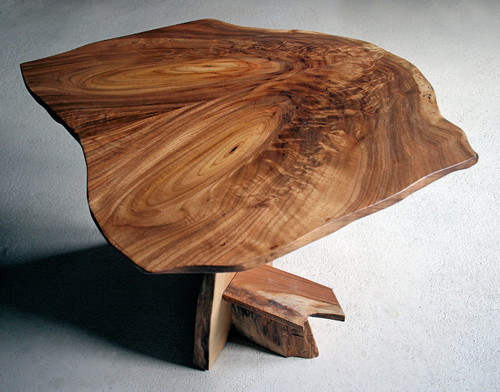 I think this piece would work in so many settings and decor styles and thank Ray for offering this piece to a ::Surroundings:: friend and reader.
In order to win, please visit Ray's website and Houzz pages and come back and post here to tell us which piece is your favorite. Extra chances to win if you also "Like" Ray's Facebook page here: https://www.facebook.com/60nobscot and mine here: https://www.facebook.com/LindaMerrillDecorativeSurroundings
Email addresses must be included in order to win – if you use yours to sign into disqus, then that's okay for the purposes of entry, or include in your post, or email it to me separately after you've commented and reference your comment. Only continental US mailing addresses, please. Let me know if you have any questions. Random drawing to be held on May 12th.
NOTE:When I moved the post to day, the previous comments didn't come with the post, but not to fear – I do have all the comments noted separately! Thank you!
And, we have a winner! Congrats to Patrick Madden!! Please note again that some of the entries didn't copy over when I reposted this post to today. However, I had a record of each comment posted to the prior blog post, plus each like on FB, etc. I wrote each name on a slip of paper (1 per comment, 1 per each like on Ray and my FB pages) and drew out of the pile of paper slips.
If you would like my help on your design project, I would love to chat with you! Please email me. Thanks!
Subscribe to ::Surroundings::