As mentioned on Friday, I was looking forward to enjoying the offerings of the Mandarin Oriental Spa in Boston, followed by dinner at Bar Boulud afterwards on Saturday.
Let me just sayhat the spa was fantastic. From the moment you walk in, the service and ambience are perfection. You sit in this nice lobby and remove your shoes and coat and are provided with slip-ons and a lovely cup of tea. Since we were eating lunch there, we were presented with the menu to select from and then each were escorted to the separate mens and ladies families which included changing rooms, showers, steam rooms, hot tub, a lounge and other facilities. You could literally live there – everything was warmed and soft to the touch – perfect on a cold New England winter's day.  The robes were lux (and one size really does fit all, let me just say), the attendants were just the right level of polite and helpful without being obsequious.  I had several services and there was someone to escort me to each and then return me to the ladies lounge.
The lunch was all set out and waiting when I was brought to the Spa Cafe. My only complaint is that the tables – while very pretty – leave no room for your feet and you have to uncomfortably straddle the base. This is definitely something a designer would think about – it not only needs to be beautiful, but also functional. But, the lunch was delicious – miso soup, turkey/avacado wrap with a salad and juice. No booze – which is fine with me. Someone on Yelp reviewed the spa highly, but took away a star because there is no champagne or wine served. I guess it's a MA law or something. Eh, not that important to me as I said.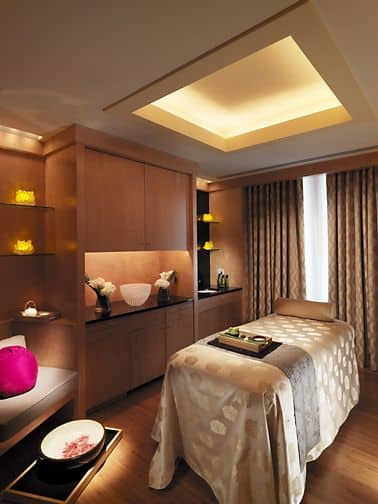 In the morning we had mani/pedi's which were fine. After lunch, I was brought to this lovely room where I spent the rest of the day being scrubbed, showered, massaged and facialed. I fell asleep during the facial which is a good sign. The massage therapist asked a lot of questions about preferences, any skin or muscle issues I had, etc. She was very attentive to my reactions during the treatments and adjusted things accordingly. For instance, I thought I'd want a "medium" intensity massage – but found it painful so she went with light. I should know better – I am a wuss with that stuff. It was heavenly.
I spent the last hour in the hot tub, lounging on their comfy day beds sipping chilled water and snacking on dried fruits. The only criticism of the facilities (aside from the table issue noted above) is that the showers are very hard to regulate temperature wise. I had problems in the massage treatment room, and again in the ladies area. Another woman was also having problems and my friend Rob said he too experienced issues. It was very hard to tell which way was hot and cold, and the hot was scalding so a lot of time was spent turning the lever around until you could figure out which way was cold – then of course it went to frigid – all while standing away from the water. The temperature simply took too long to regulate – which they should try to fix at some point.  But once that was figured out, it was lovely. The soaps and shampoos are terrific, there were towels aplenty. And finally, the air had a faintly spicy/floral scent that was feminine without being cloying. Loved it and will definitely go back.
(2/24/15 – SEE UPDATE BELOW)
Unfortunately… the lovely relaxing day did not end well. We ate at Bar Boulud downstairs. I wrote the following remarks  on my Facebook:
A note about good customer service: Companies and service providers have to remember it's not just about providing a great experience (though very important obviously), but also providing a good experience when something goes wrong. Case in point. Spent the day at the Mandarin Oriental Spa in Boston – fantastic, exceptional, worth every penny. Had dinner at Bar Boulud downstairs. I'd eaten there before and it was fine, not exceptional, but fine. On Saturday we had a great dinner (coq au vin – yum). The seating and service was quick and well-timed. The quality of the service was okay, maybe a little casual, but ok. The problem came when we paid and between ringing up my bill and bringing it (and my debit card) back to the table -the waiter had lost the debit card. He searched a bit, then the manager appeared. They moved the table a bit, looked around the floor. Obviously, it was crowded and if it fell under a table, they could hardly disrupt other diners to check. But – the waiter, manager and hotel security guy all kept addressing their comments to my friend Rob instead of me – even though it was my card that was missing and even after I reminded them that it was my card and they should be speaking to me. Though they kept assuring us that they would certainly find it under a table, they couldn't look until after closing and "sorry for the inconvenience". So, I'm sitting there with a bill in front of me waiting for a signature and tip to be written in. I expressed my obvious concern that my debit card was missing and that I'd have to cancel the card and what pain that is… At one point we were just sitting there waiting, but not sure for what. The security guy came back and took my name and # – but neither one of us could understand a word he said (it's one very loud restaurant). Meanwhile – am I supposed to be signing off on a bill when they've lost my card? There was no offer of anything to offset my inconvenience or understanding that it's very bad to lose someone's card! No offer of dessert or coffee while we waited, no offer to comp my meal, nothing. My friend gave them opportunity to do so – sort of leading the manager in that direction and all he kept saying was that it should all be fine- they'd already run the card with the dinner bill so it should go through anyway. Later – Rob spoke privately to him and was basically saying (very politely ) that they should be offering me something for my inconvenience – then the manager said something about us having a drink at the bar – that's what he "meant to say". No, it's not – just a b.s. moment. So, we left. They did call me the next morning (in fact they called Rob first because he'd made the reservation – even though it's my card and I'd given them my #) to say they'd found it. I had already canceled the card, but asked them to mail it back to me. Tepid apologies for my inconvenience. Meanwhile, a simple offer of dessert and coffee would have sufficed as an apology. Or a coupon for a return trip. Just not that hard people!
It's well-known that consumers will remember a mistake far more than good service – and will talk about it far and wide. But, they will also remember when a mistake, or some other problem, is handled well and corrected efficiently. And when that happens, it creates a very positive bounce for the establishment that created the problem to begin with. Most people just want to be heard and their concerns addressed. A lost debit or credit card is a big deal. There is a lot of fraud and identity theft that goes on in restaurants where credit cards are handed over and taken away from their owners. This is why most restaurants in France use hand held devices to ring up the charge at the table so your card never leaves your sight. I had to end my special and amazing spa day experience calling my bank to have them cancel my debit card, I will need to go to a branch to order a new card and will have to change any auto-charges I have that go to that account. Accidents happen – my credit card feel out of the bill folio and went missing. But even this "temporary" mishap will result in me spending a couple of hours dealing with it, not to mention watching my account for any fraudulent charges.  Not the best last memory of the day.
UPDATE (2/24/15)
In response to my criticisms above, the general manager at Bar Boulud invited me and a guest to come back and give the restaurant another chance. I am happy to say that they did in fact redeem themselves by offering excellent service and a very delicious brunch this past Sunday. We attended their Jazz Brunch and it was the place to be on a cold, snowy Boston day. The food was delicious – their offerings included both sweet and savory dishes – and the service attentive. I should have taken photos of the food, but we were too busy eating. I had the Pain Perdu with caramelized bananas with a side of ham (particularly tasty!) and my friend had the Corned Short Rib hash with poached eggs – also delicious. I appreciated the invitation to go back and look forward to dining there again. Also, I took my friend for a spa treatment at the Mandarine Oriental Spa after brunch for his birthday. Another wonderful experience – complete with celebrity siting. After the winter we've been having, it was a nice and nurturing treat of a day!
If you enjoyed this post on the Mandarin Oriental Spa, you might also enjoy:
The Mount Washington Resort and Spa