In this my second countdown to the finale installment, I'm going to feature some of the beautiful Downton Abbey Dining room scenes. Along with the drawing room, which I featured yesterday, the dining room has been the scene of most of the "conversation" aspects of the series. The real setting is the dining room in Highclere Castle and while it is a large room, as we will see, sometimes once there is a large group of actors and production people, it was probably actually quite a tight space to work in. Real homes – especially those of the historic antique variety – add so much veritas to a scene – but they are hard to work in. In those amazing days of proper etiquette – the "upstairs folks" had to dress appropriately for each part of their day – ladies often changed 4-5 times a day – and each night featured a formal dinner even if it was just dining "en famille". And so, the dining room scenes in Downton Abbey have featured not only some of the wittiest and most cutting conversation on televisions, but also some of the most gorgeous fashions as well.
It's amazing to think of family dinners complete with servants standing about waiting to be useful. The dining table must have at least 6 leaves in it to accommodate the number of diners at any given meal.
Shirley MacLaine was either terribly miscast or misdirected in her turn as Cora, Countess of Grantham's American mother. She was ever terrible stereotype of a gauche, rich American – including speaking with her mouth full of food. She looked great, but there was no way that the serene and elegant Cora came out of this woman.
The table settings were always perfection.
In this photo below, we can see all the production people who truly make up the scene we see above.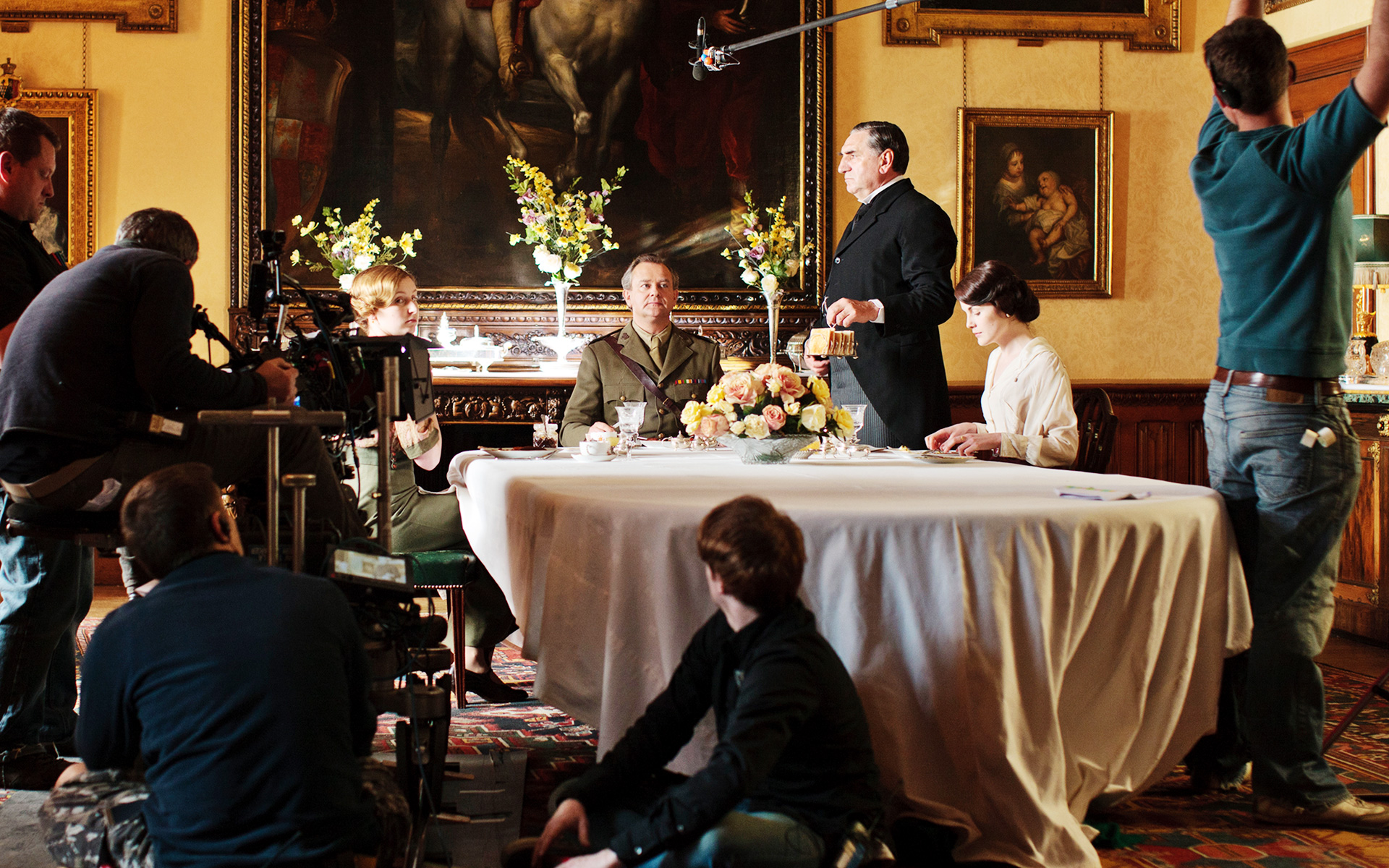 This is such a beautiful photograph below, but if you look, you can see the production crew in the background.
The costumes spanned the era from 1912 to 1925 – and really evolved along with the times. But always gorgeous!
The detestable Miss Bunting. Luckily she got the heave-ho pretty quickly.
And a current shot of the dining room at Highclere Castle.
Below it's set up for a business meeting with plastic water bottles. We've lost something in the elegance factor, methinks.
And some other dining scenes. The first an dinner in a barn following a big hunt scene.
Just a little tea outdoors. You do have to think about how much work the servants did to accommodate these traveling tea parties.
And everyone's favorite curmudgeon Violet, Dowager Countess of Grantham in her dining room at the Dower House.
And finally, the servants need to eat as well and this is their dining hall. It also doubled as a work table when needed.
Stay tuned for more in my countdown to the Downton Abbey series finale this weekend!