As we head towards the series finale of Downton Abbey, I wanted to visit the various bedrooms we've seen along the way. Some have changed, some have stayed the same. All are beautiful in their own way.
Lots of dialogue has taken place in Robert and Cora's bedroom. It was customary for Edwardia era ladies to spend a lot of time in their bedrooms. Married ladies ate their breakfasts in bed and spent a lot of time changing their clothes for different parts of their day.
I made this montage after the first season. The has always been a canopy with upholstered headboard, but it changed over the seasons.  And note in the last photo of the montage, when Cora had Spanish Flu, they draped the back with sheeting to protect the upholstery from her sweat, I would assume.
The pale blue walls gave way to a deeper blue/green, which I always loved. And the headboard and fabric draping became a little more opulent. I wish we'd seen "decoration" scenes when they made these changes!
They've had lots of "private" conversations here, shared the bed and slept separately. When I say "private" I of course mean that there is always a servant standing by. And production crews…
I always loved the color of the walls in this room.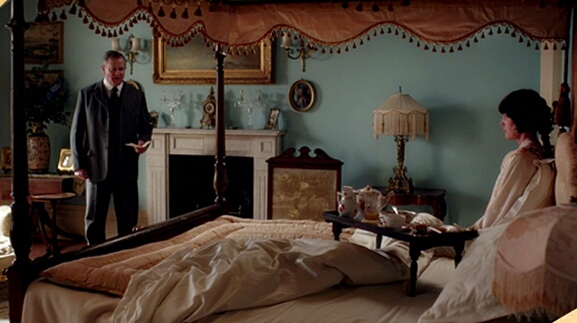 Typical of the times, Robert had a smaller adjacent bedroom and changing space. The main bedroom was the domain of the lady of the house (sometimes they received visitors there) and the husbands were basically invited guests.
One thing I've always wondered about is why Lady Mary's bedroom seemed larger and more opulent than her parents did. Maybe owing to the character's status in the show?
Many scenes took place here (including the untimely demise of a certain dashing Turkish gentleman). The sister's gathered here to chat and bitch at each other and it is here that we usually saw a softer, kinder side of Lady Mary in her relationship with her maid Anna.
The wallpaper is spectacular!
Even though this was a huge bedroom, when Mary and Matthew married, they moved to a new bedroom (or redecorated, it's hard to tell).
The bed in particular is just gorgeous with the wrapped footboard.
Ah, Matthew, gone but not forgotten.
We didn't see much of Lady Edith's bedroom and basically non of Lady Sybil's (except I guess the childbirth/deathbed scene. But neither were anywhere near as grand as Mary's boudoir.
I love the color and the bed however. I think the colors say something about the two sisters. Mary's starts off as a passionate red, then dims to a cooler blue, whereas Edith's is a warm-hearted peach/apricot – which kind of fits their characters.
For such a large house, I'm always a bit surprised that the three little kids all share a single bedroom. But it's cute.
And, another guest room was seen when the footman William was given a place of honor for his deathbed to honor his service to country and for saving Matthew's life. (sniff, sniff).
Needless to say, the servants quarters were quite plain and bare bones, but not without their charms.
And so, as we're set to close the book on Downton Abbey, I have one more post to go – which features some of the most spectacular scenes and photography of the series.