So, here we are just about to view the final episode (here in the States) of Downton Abbey.  I wanted to share some of my favorites character images that also feature some of the most spectacular sets and furnishings we've seen in the show. I've tried to order the photos by character, chronologically, just so we can see how they've changed over the last six years and the 14 years depicted on the show (1912-1926). For the most part, I'm showing the female upstairs cast members because, let's face it, their costumes are much more interesting than the mens and servants.
In the very first episode of Downton Abbey, we meet three generations of Crawley women: (l-r) Cora, Violet, Mary, Edith and Sybil.
Dame Maggie Smith plays Violet, the Dowager Countess of Grantham.
Here we have Maggie Smith and Shirley MacLaine who played Cora's brash American mother Mrs. Levinson.
The amazing Maggie Smith and Isobel Crawley, played by Penelope Wilton – gave new meaning to Frenemies turned dear friends.
Cora and Robert, Countess and Earl of Grantham, played by Elizabeth McGovern and Hugh Bonneville. The Cora character was always an oddly tepid one. She showed a certain "American" modernity and strength, but it was always overshadowed by a persistent blasé attitude about things. I've never known if that was her acting or the direction she received. She always looked amazing however. After being most familiar with Hugh Bonneville as a goofy loser Bernie in "Notting Hill", I wasn't sure about him when cast as the "most important person in every room." He certainly did have the gravitas for the role, even though his character has taken many turns and he's acted pretty poorly and not too bright on occasion.
And, the Crawley sisters – Ladies Edith, Sybil and Mary.
Lady Mary Crawley, played by Michelle Dockery. Strong willed, snobby with an acid tongue, she's in the untenable position of being the eldest child with no way of inheriting the estate, other than marrying or mothering the eventual heir.
The actress was born to wear these 20's styles.
Lady Edith, played by Laura Carmichael, is the sad-sack middle child who is always being written off as the plain sister, unlucky in love, who will probably remain a spinster. She's always in the shadow of both her sisters and resents it. But, she's the one who truly pushes the boundaries of her times and becomes the most modern of women, even if some of it is thrust upon her.
I love these "set" photos where the actors are fully in costume, on their phones.
And, she's the ugly duckling turned swan.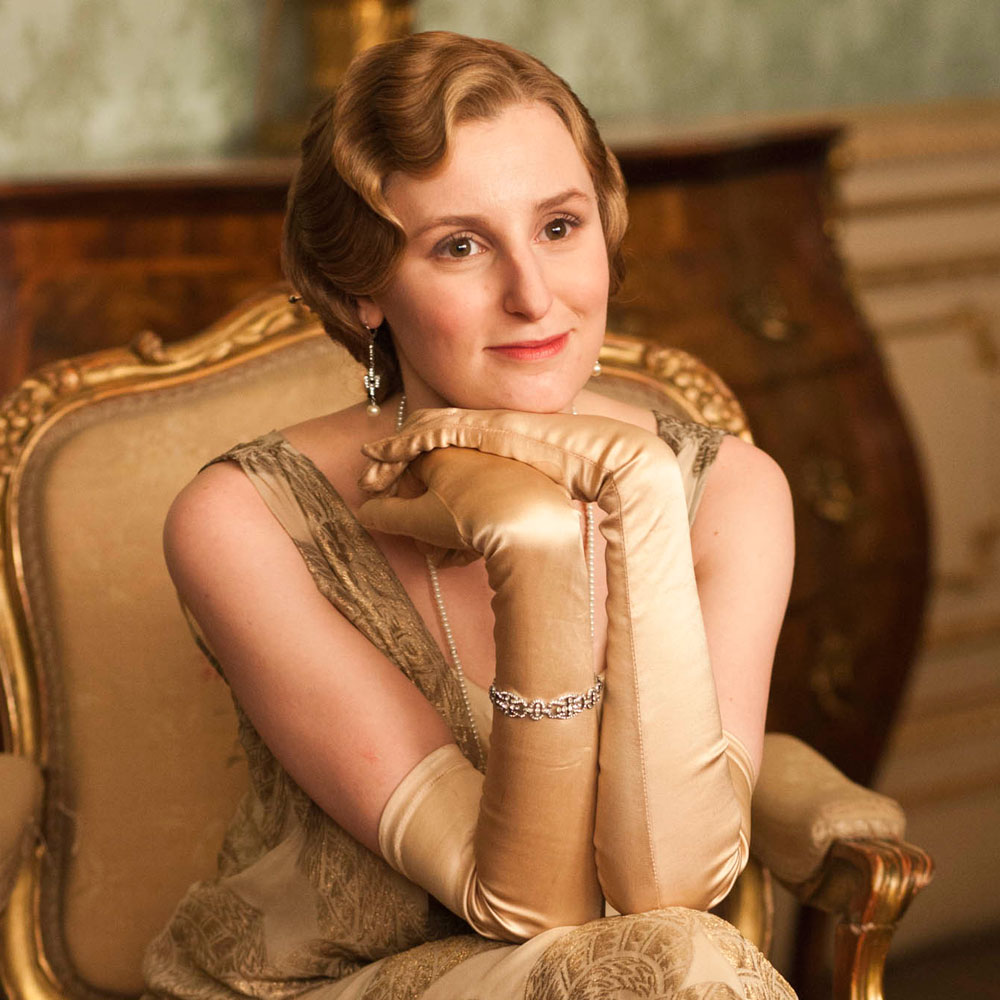 Businesswoman:
Lady Sybil, played by Jessica Brown-Findley. Known for her sweat personality, modern views and running off with the Irish chauffeur. The actress wanted to leave the show to pursue other opportunities, and so we were given a truly heartbreaking death by childbirth scene.
Not a Crawley sister, Lady Rose MacLare, played by Lily James,  is a relative/cousin of the Crawley's who starts off as a wild child flapper and ends up living a relatively typical life for a woman of her class and times. The photos of her are notably beautiful. As the series has moved along, the still photography has gotten progressively more spectacular.
Drifting on a river, on pillows. As you do.
Another telephone photo. I keep wondering if they built pockets into the costumes so the actors could hold onto their phones, or did someone take them when the cameras were rolling.
There is nothing about this photo I don't love. Note the arm on the sofa by Lady Mary. What an interesting detail.
And, for some reason, I love the fan on the table. Again with the phones!
I guess since Marigold wasn't yet "acknowledged" as a Crawley family member she was left out of this photo?
Who is Tom Branson with in this photo? Maybe we'll know by the end of tomorrow's episode? I never understood all those who thought he and Mary would end up together. But it would be nice if he found love and a new Mommie for Sybbie.
Any thoughts on how all the stories get wrapped up? I've figured it out just by researching photos, but I won't tell!
Updating to add that in 2019 I attended the Downton Abbey Costume Exhibit it Boston. It was fantastic!
If you enjoy this, you may also enjoy:
Downton Abbey Drawing Room Finale