Last weekend I headed off to beautiful Newport, Rhode Island to take in the 15th Annual Neighborhoods of Newport House Tour, put on by the parent's association of St. Michael's Country Day School. I've been to a lot of house tours and I have to say this was one of the best organized I've ever seen. And not only well-organized, but everyone from shuttle drivers to volunteers was friendly and very helpful. There were seven venues on the tour and not all were houses. The tour goes from 10-4 and I will say that it probably would take all of the six hours to visit each place. I made it to only four because I was running late that day. Because of the spread out nature of Newport, they had 4 different shuttle bus "lines" which took much of the time heading back to the central parking location to switch busses and it does provide excellent sight-seeing along the way.
The first stop was the original stables at The Breakers, the iconic Vanderbilt mansion. The stables aren't that near the mansion, which shows how big the property was in its heyday. As an aside, if you haven't seen the new HBO documentary Nothing Left Unsaid about Gloria Vanderbilt as told by her son Anderson Cooper, I highly recommend it. She's lead an amazing life, despite the wealth and the troubles, and so has he, despite lots of early loss. It's quite melancholy.
Anyway, back at the stables… above was a little sitting room just inside the front entrance. The ladies room was off this little room which made it a defacto ladies sitting room. When I wandered through there was a grumpy lady sitting there who had no interest in visiting the stables whatsoever – "I'm not a horse person". Oh well. I found it amazing myself and I'm not a horse-woman either. Besides, it's been a while since horses were stabled here.
Gleaming original floors, equipment and horse blankets lined the walls.
The building was two stories at one point until a fire took out the second story. The grooms quarters were up there along with a five-room suite for the head groom and his wife, who was the cook.
The stables complete with herringbone patterned brick floors. Each horse stall had a water source and drain so that they could be washed out every day.
The details in the stables were impressive – those enormous sliding barn doors – so gorgeous!
There is a wonderful carriage collection at the stable as well.
This is a Brougham carriage, built by Million & Guiet of Paris. This style carriage was introduced in 1839.
This is a Ladies Phaeton wicker carriage.
The ladies bathroom –
So, the only downside of this hour tour is no photos are allowed inside the actual houses. Understandable since they are private residences, but still a bummer.
My favorite house was the one above, designed by architect Paul Weber. It's also his own home. It was so beautifully thought out with lots of light, wide hallways – very gracious. The rooms weren't huge. It wasn't a "decorators" home – but the furnishings were very nice and the kitchen was gorgeous. The yard huge and there were landscaping plans by Greg Lombardi laid out in the home office which shows what's to come. I do wish I could have taken photos! You can see some inside photos here starting on image 14 of the photo gallery.

The next house was a modern one that was integrated beautifully into the landscape with spectacular views of Narraganset Bay. This house was originally built in 1980 and was completely renovated and updated by Ross Cann of A4 Architecture & Planning of Newport. There are some photos on their Houzz page of the interiors. I will say, the kitchen was spectacular, the dining room lovely, but it kind of went a little flat (for me at least) from there.
The house above is one of the most famous Queen Anne shingle homes in Newport. Called Snug Harbor, it was built in 1878 for Commodore Charles H. Baldwin, a Civil War naval commander as a summer house. The current owners, an art dealer and his wife,  purchased it in 1992, saving it from being turned into condos. They raised their kids in the house and while it is an impressive example of historical architecture, they clearly don't live "large". I don't know who they are, but they are clearly well-connected as shown by the tables filled with framed photos of famous politicians including President's Obama and Clinton, and Secretary of State John Kerry. The kitchen was kind of a mess and it was surprising they actually didn't barricade it from view. The woodwork is spectacular and there was original William Morris wallpaper still on the walls in the staircase.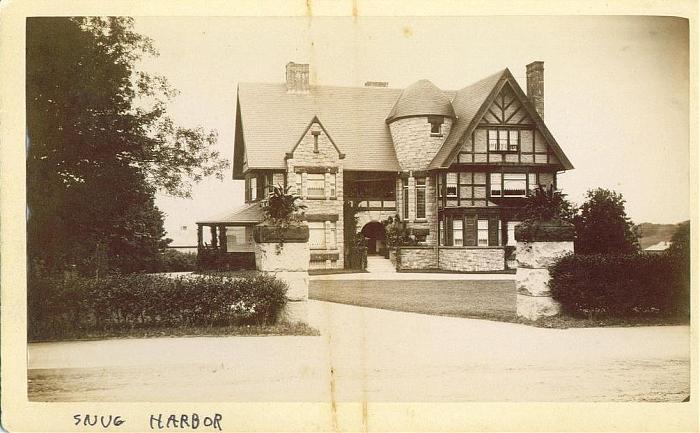 An old image from the side of the house.
The back of the house and patio.
As I said, I only made it to four places that day. I would have loved to see a truly "decorator's dream house" but if there was one, I missed it. Oh well. It was a fantastic day and I look forward to doing it again in two years when they put on their next tour.
Meanwhile, I'll leave you with the ironwork detail on the Cliff Walk behind The Breakers mansion.
If you enjoyed this post, you might also enjoy: