I've always said that I'm not a blue person – but after seeing these photos of this pale blue kitchen at the Southeastern Designer Showhouse in Atlanta Homes & Lifestyles I've sure got the blues and you will too!
The kitchen was designed by Matthew Quinn of Design Galleria Kitchen and Bath Studio in Atlanta.
The pale blue kitchen cabinets are painted Farrow & Ball's Light Blue – a beautiful silvery-blue color. The butler's pantry (image below) cabinets are a darker shade of blue, though I haven't been able to find this color as of yet.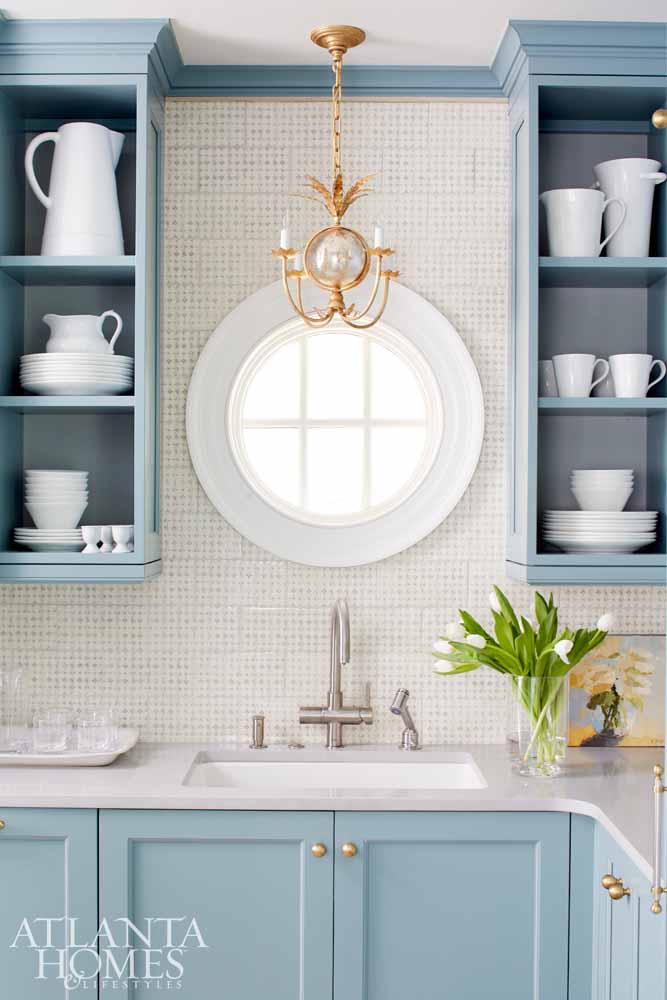 This is actually a great lesson on why it's so important to test a paint color in the actual space where it will be used; and to test with real paint. The images of the kitchen cabinets above are fairly consistent in their coloring.  However, when you do a Google Image search of this kitchen you will find lots of photos from bloggers and other media outlets who toured the showhouse. The color variations in the photography are wide, to say the least. And a search of images showing F&B's Light Blue range from light blue to green… You wouldn't want to be expecting this gorgeous pale blue only to find it looks pale green in your own home!
The adjoining dining area was designed by Lauren DeLoach. How gorgeous is this??
The custom banquette seats are covered in a recycled leather for easy clean up. Such a wonderful combination of formal and casual.
You can read more about the showhouse here and see the resource list here.
What are your thoughts on this beautiful pale blue kitchen color palette?
SaveSaveSaveSave