I'm a little late this month, but wanted to share my December Color of the Month: Green and Gold!  Obviously, this palette has been inspired by the Christmas season, but I think you'll agree it's not just for Christmas anymore. There has been a strong resurgence in popularity of many shades of green used in interiors in both decoration as well as architectural elements such as kitchen cabinets. The return of brass and gold-tone elements as also fueled this amazing color palette.
Elegance! A beautiful velvet upholstered sofa with gilded gold wood frame is sure to be a statement piece in any room. I love how this is juxtaposed with the simple windows and small, ornate drum tables.
Drama! You can't get much more dramatic than malachite green walls and this space is punctuated even further by the almost violent looking mirror and sexy curves of the lacquer and brass table.
Romance! Soft and pretty are the keywords for this little vignette with moss green trellis patterned wallpaper from Thibaut and brass table.
Kitchens
There's been a huge bump in the popularity of green and gold toned kitchens and this one below by Kelly Wearstler for Cameron Diaz is one of the most bold I've seen. That backsplash!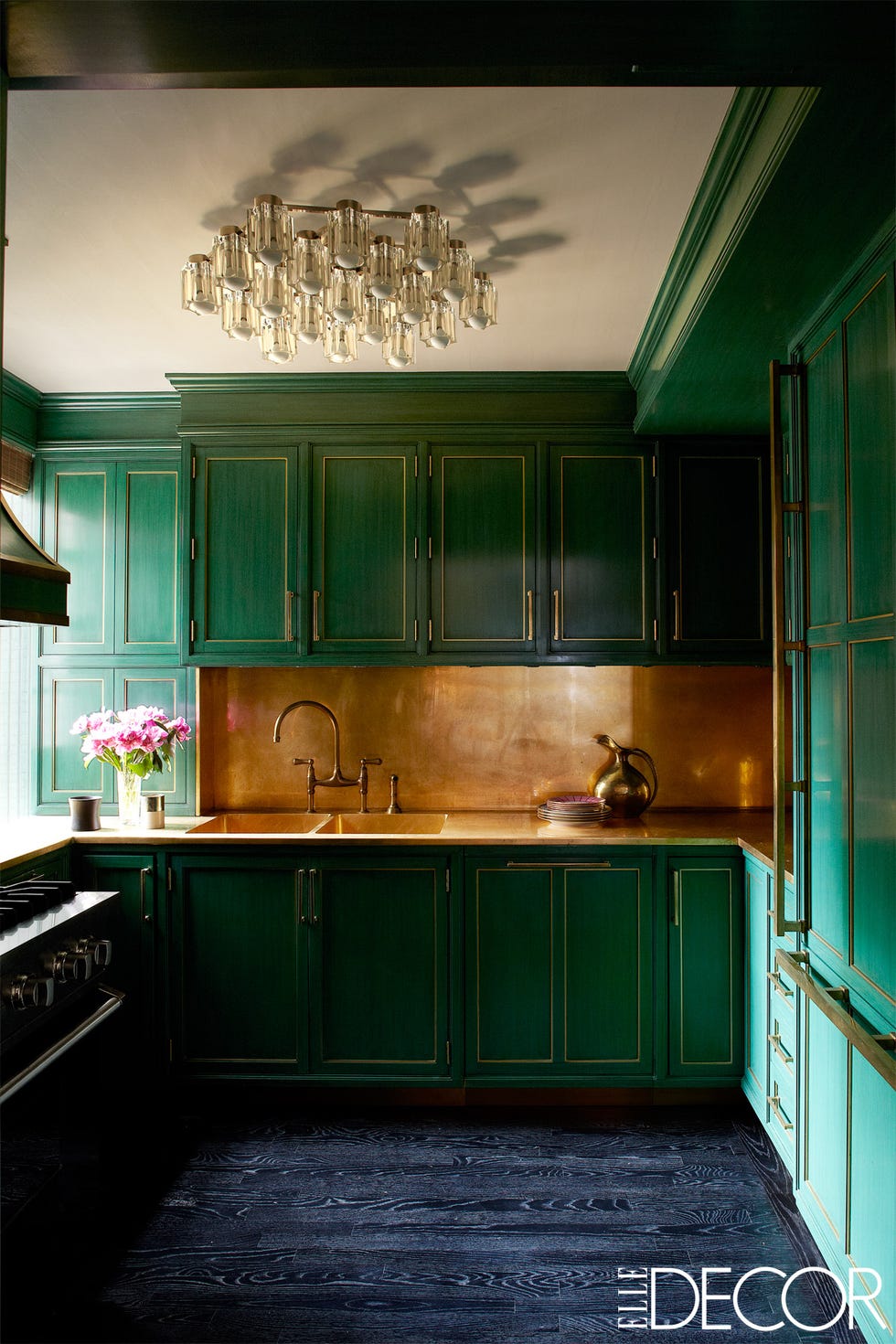 Love the simple form of the cabinets, brought to a high level of drama by the depth of color.
And this rustic kitchen features classic materials and lines. I really like that the walls are painted the same color as the cabinets which really ties it all together.
Could you do green cabinets? 
Rustic Table Scape
Christmas Decor
And, of course we can't forget the fabulousness of a green and gold palette for Christmas decorations!
December Color of the Month: Green and Gold Boutique

SaveSave
What's your Christmas decorating color scheme? Do you do the same thing each year or do you switch it up ?
See more inspirational Green and Gold images here on my Pinterest.
Disclosure: This post contains affiliate links, which means Surroundings receives a commission on any purchase. This goes to help keep the blog going. Thank you!
Header credits: 1) House & Home   2) 1st Dibs, but no longer available 3) View Along the Way 4) Maison de Pax
SaveSaveSaveSave